Joseph R. Anticaglia MD
Medical Advisory Board
Karen and Peter looked forward to celebrating their 25th wedding anniversary this past September in Europe. They planned to spend three weeks in Italy beginning in the Lake District of Northern Italy, then onto Venice and from there to Florence and Rome. They were crestfallen when the European Union put a "Do Not Enter Europe" sign on American tourists because of high incidence of COVID-19 in the United States
Despondent and relegated to both working at home, there was no "joie di vivre" in their home. They had worked diligently for a year and a half, specifically, to put money aside to pay for the trip abroad. The vacation was all set; they made airline and hotel reservations, the passports were up-to-date and Karen bought new outfits. The cancellation news made the days of working at home with no travel plans demoralizing until Peter began floating the idea of adopting a pet.
They decided to adopt a cat through their local humane society. Surprisingly, they could only do it virtually, since the adoption center closed their doors due to the pandemic. The society placed the animals in foster care homes whose members placed short biographical details about the cat on the internet with contact information.
Karen and Peter poured over the cats' bio information and decided on one special cat. They contacted the person who was temporarily caring for the cat and was told the cat was available for adoption. But it was required that they fill out application forms and pass a virtual interview before they would be considered for adaption.
Two weeks later, a 2 year old male Tabby with a dark and light gray coat pattern was delivered to their apartment by a driver from the humane society. He wished them good luck, handed the Tabby to them in a carrying case with his "toys." He told them, "The cat received "a good-health- seal of approval" by the veterinarian and the cat is up to date with his "shots." He handed over the Tabby's medical records and once again said, "Good luck!"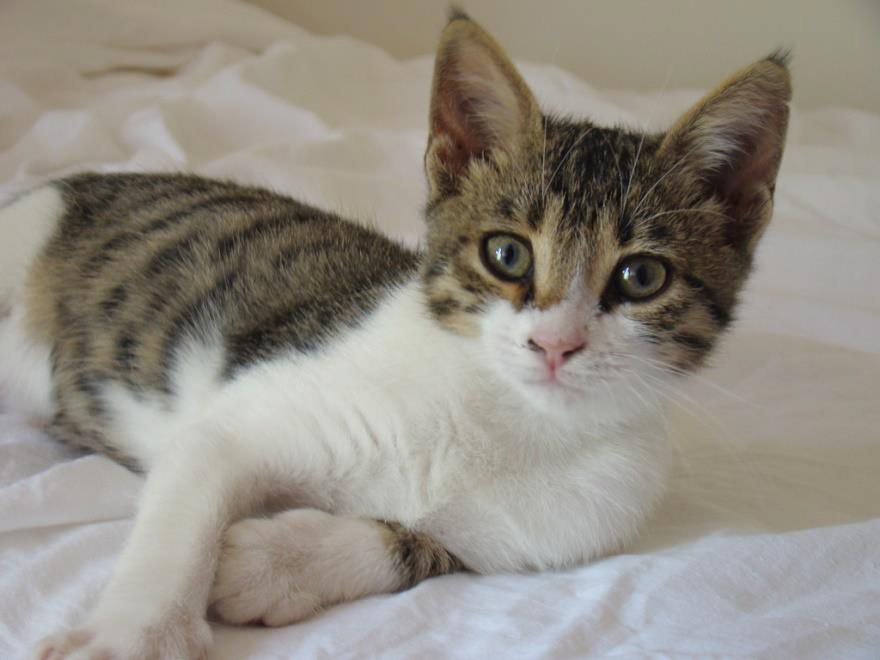 7 Benefits of Pets
The SARS CoV2 virus (COVID-19), in one way or another, has sequestered many of us to our homes. The lack of in-person contact is unnatural and has caused a lot of people to become uncomfortable and unhappy. Can common household pets pump-up our spirits and assuage the fear of becoming infected or dying on account of today's coronavirus? The CDC and others have talked about the benefits of pets in the home which include:
Pets can decrease the emotional highs and lows of people. The current pandemic makes individuals feel anxious, "stress-out" and despondent. Pets help to smooth out the emotional roller coaster between anxiety and depression
They decrease your loneliness. They greet you when you return home, tolerate your moods, play with you and might even keep you company while watching TV.
Pets can create a routine for you and keep you active. A walk around the block or in the park, under the right circumstances, is good exercise for both of you.
Pets might increase the opportunity to socialize in person or otherwise. You may post their pictures over the internet or use zoom or skype or take a walk with them.
They can make you laugh. Whether chasing a laser beam or their tail, they can make you giggle.
Pets turn your thoughts outward. They depend on you to be fed and to thrive.
They foster patience and bring joy. It seems as if pets are more patient and understanding of our faults than we are of their faults. Despite their orneriness, they're a welcomed presence in the home.
Some Pet Precautions
Washing your hands is essential to good pet hygiene after interacting with them or cleaning up after them. If a pet scratches you, wash the area immediately with soap and water, clean it with 70% isopropyl rubbing alcohol If the area becomes red and swollen, contact your physician without delay.
People with weakened immune systems or pregnant women should take special precautions before adopting a cat or some other pet. Cats can carry a parasite called toxoplasmosis—a disease that can cause, among other things, birth defects. To minimize problems, keep your pet healthy with regular veterinarian visits.
There's NO evidence that domestic pets spread COVID-19 to people. They DO spread companionship and a feel-good atmosphere at home. Karen and Peter still miss their European celebration but "Tabby" took the sting out of the disappointment.
References
Nicola M. A. Parry; COVID-19 and pets: When pandemic meets panic; Forensic Science International: Reports. Published on line Apr 11, 2020
WHO; Q&A on coronaviruses (COVID-19); 17 April 2020 |
E. Paul Cherniack and Ariella R. Cherniack; The Benefit of Pets and Animal-Assisted Therapy to the Health of Older Individuals; Curr Gerontol Geriatr Res, published online Nov 16, 2014
Glossary
"Tabby" is not a breed of cat but a coat type seen in domestic cats.
This article is intended solely as a learning experience. Please consult your physician for diagnostic and treatment options.