Joseph R. Anticaglia, MD
Medical Advisory board
As much as we would like COVID-19 to disappear, it has not. It continues to make people sick, causing hospitalizations and in too many instances deaths. The 2020 pandemic has been blunted by Public Health measures and certain medications, one of which has been Paxlovid.
Paxlovid is an oral, antiviral medication that received emergency use authorization by the Food and Drug Administration (FDA) to combat SARS-CoV-2, the virus that causes COVID-19. Paxlovid is the brand name for the medications nirmatrelvir which is co-packaged with ritonavir.
Nirmatrelvir is an antivirals that works by stopping the virus from replicating and spreading in the body. Ritonavir is a drug booster. It's not an antiviral. It works by increasing the amount of nirmatrelvir available in the body making the medication more effective.
Doctors prescribed Paxlovid to treat adults and children (12 years of age or older and weighing 88 pounds or heavier), who have had mild-to-moderate symptoms for 5 days or fewer and who are at high risk for progression to severe COVID-19, including hospitalization and death.
High Risk Factors include:
Older adults — 50+years
Lifestyle factors: overweight or obesity, smoking, excessive use of alcohol
Medical factors such as asthma, cardiovascular disease, diabetes, being immune compromised, receiving chemotherapy
Mental health disorders, substance use disorders
Developmental disabilities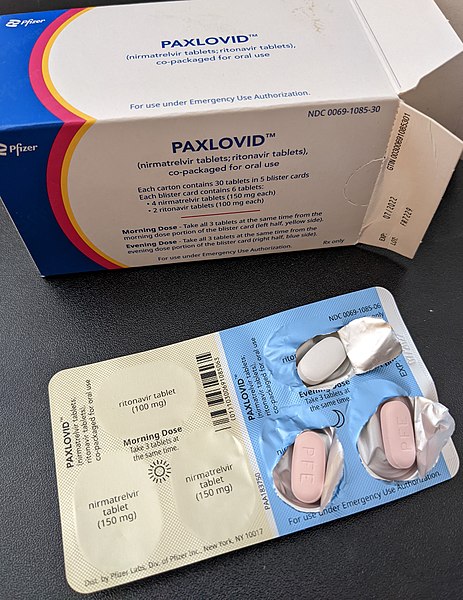 How Paxlovid Works
The COVID-19 virus has the ability to break down proteins and replicate, that is, to make copies of itself. Paxlovid's antiviral component, nirmatrelvir, acts as a protease inhibitor interfering with the virus' capacity to break down proteins and reproduce itself.
Side Effects
Common side effects include diarrhea, nausea, vomiting and changes in your sense of taste.
Dosing
Paxlovid is an oral medication taken twice daily for 5 days. The manufacturer has both a standard dose pack and a renal dose pack available for persons with compromised renal function. It is not recommended for severe renal or hepatic impairment. Paxlovid may be given to individuals who are pregnant (consult your Obstetrician).
Rebound
A small number of patients experience COVID-19 rebound, a recurrence of symptoms or a new positive viral test after having tested negative for the virus. The rebound occurs 2 to 8 days after the initial recovery. Isolate again for at least 5 days and wear a mask for 10 days after rebound symptoms started. Retreatment with Paxlovid is not recommended.
Paxlovid is not a substitute for COVID-19 vaccination and a booster dose in individuals where they have been recommended. There are known allergies and drug interactions with Paxlovid. Consult with your doctor and pharmacist for more information. The use of Paxlovid has reduced the number of hospitalizations due to this virus and has saved many lives.
Reference
FDA Food and Drug Administration; Emergency Use Authorization; Letter to Pfizer Inc, February 1, 2023
NIH; Drug-Drug Interactions Between Ritonavir-Boosted Nirmatrelvir (Paxlovid) and Concomitant Medications; March 6, 2023
HHS, Administration for Strategic Preparedness & Response; Paxlovid (nirmatrelvir co-packaged with ritonavir); March 6, 2023
NIH Research Matters; Paxlovid reduces serious risks from Omicron variants; January 10, 2023
This article is intended solely as a learning experience. Please consult your physician for diagnostic and treatment options.