Joseph R. Anticaglia MD
Medical Advisory Board
Pharmaceutical companies spend a great amount of time, effort, and money in their quest to cre-ate effective drugs to combat viral, and infectious diseases. There have been notable antibiotic successes, but less so concerning antiviral medications.
On the first day of October of this year, Merck announced that the antiviral pill — molnupiravir — works against COVID-19 by reducing the risk of hospitalizations by approximately 50 percent in patients with mild or moderate disease.
Success Stopped Merck's Clinical Trial
Merck, in conjunction with Ridgeback Biotherapeutics, investigated the safety and efficacy of the oral molnupiravir. The drug companies aimed to enroll 1,550 patients in phase 3 of the clini-cal trial.
To be eligible to participate in this study, all patients were required to have laboratory-confirmed mild-to-moderate COVID-19. In addition, patients needed to have symptom onset within 5 days of study randomization, and have at least one risk factor, such as obesity.
After researchers evaluated data from 775 patients who were initially recruited in Phase 3, they stopped enrolling new patients for this study. They found through Day 29, no deaths were re-ported in patients who received molnupiravir, as compared to eight deaths in patients who re-ceived placebo. Also, hospitalizations were almost twice as common in the placebo group com-pared to patients who received the investigational COVID-19 pill.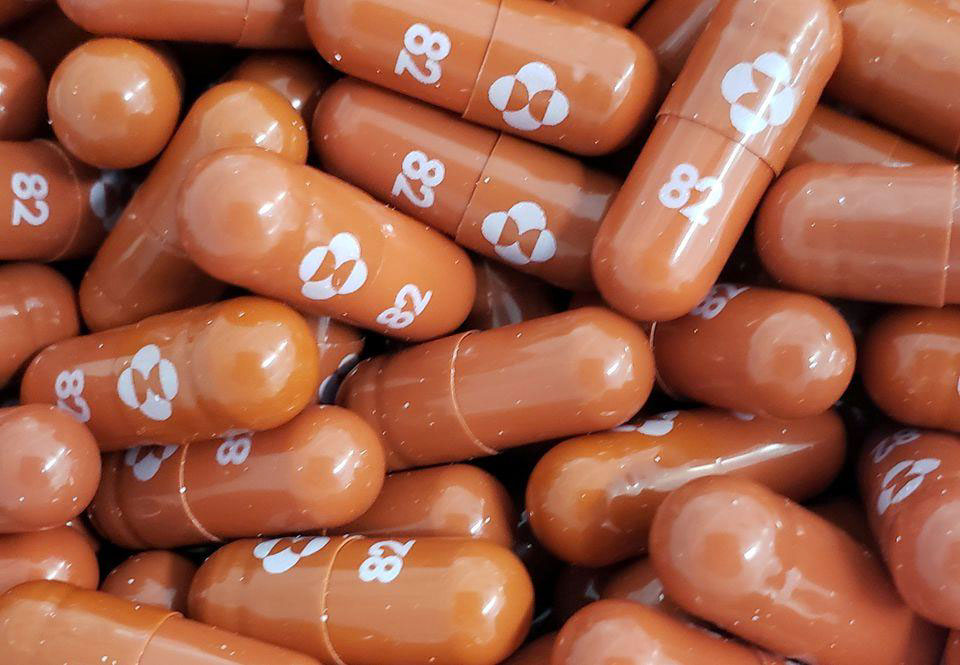 Clinical Trials
Clinical trials are used to evaluate the safety and effectiveness of new treatments. Such clinical trials are usually done using a randomized, double-blind studies. This means that both the re-searcher and the participant do not know who is receiving the medication under investigation or the placebo.
There are three main phases or stages of clinical trials (1-2-3) which are used to evaluate new treatments for a particular disease. If at any stage of the trial, the medication under investigation is considered unsafe or ineffective, the clinical trial is terminated. Less frequently, as in the case of molnupiravir, the clinical trial was terminated because this drug in phase 3 was considered safe, effective, and saved lives. Why not continue with the clinical trial?
A group of independent experts saw the positive molnupiravir results of phase 3 and after consultation with the Food & Drug Administration, Merck stopped enrolling new patients into the study. The drug was developed at Emory University and inhibits the process by which the virus replicates.
"With the virus continuing to circulate widely, and because therapeutic options currently availa-ble are infused and/or require access to a healthcare facility, antiviral treatments that can be taken at home to keep people with COVID-19 out of the hospital are critically needed," said Wendy Holman, chief executive officer of Ridgeback Biotherapeutics.
She continued: "We are very encouraged by the results from the interim analysis and hope mol-nupiravir, if authorized for use, can make a profound impact in controlling the pandemic. Our partnership with Merck is critical to ensuring rapid global access if this medicine is approved."
Molnupiravir does not replace the recommendation to get vaccinated against COVID-19. This pill does not prevent COVID-19 But it is an effective COVID-19 treatment in pill form — can be taken at home, would be less expensive and be widely available. If the FDA approves this medi-cation, it could decrease the incidence of hospitalization and save lives.
References
Merck & company; News release, 1 October 2021.
Wendy P. Painter et al; Human safety, tolerability and pharmacokinetics of molnupiravir a novel broad-spectrum oral antiviral agent with activity against SARS-cov-2; Antimicrobial agents and chemotherapy, 2021
Molnupiravir; World Health Organization, Clinical Trials
This article is intended solely as a learning experience. Please consult your physician for diagnostic and treatment options.